Construction of Perdekraal East Wind Farm has achieved a major milestone after a locally manufactured transformer arrived to be used on the project.The main transformer was transported by road from Pretoria.
The 500MVA mega transformer was manufactured in South Africa as were the turbines used in the wind farm, a move that seeks to enhance local content percentage on the project.
Glenn Hobson, construction Project Manager for Perdekraal Wind Farm said that the move to use local content on the project was deliberate.
"We are pleased to confirm that our obligation for local content exceeds 48% of the total project value, making this a truly South African endeavour," he said.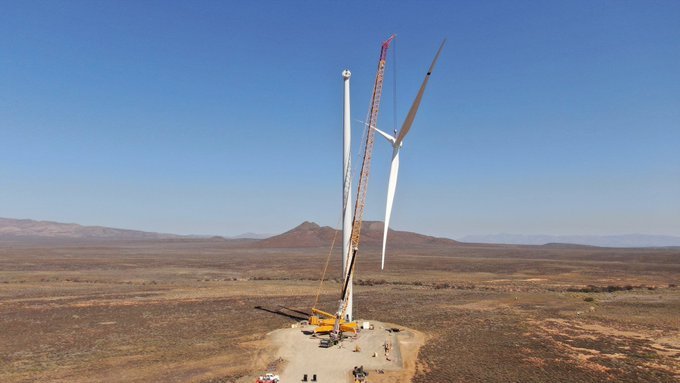 The transformer will be housed in the substation that is situated outside of Ceres. Its job is to step up the voltage produced by the wind farm to 400kV, rendering it suitable for the national grid.
The Perdekraal East Wind Farm is one of the 12 wind farms currently under construction and whose progress has been hampered by the Covid-19 pandemic. South Africa went under complete lockdown in March at the onset of the pandemic.Activity resumed on site in late May.
"We hadn't anticipated the full impact of the COVID-19 virus but our team is working hard under the less than ideal situation, considering the added Occupational Health and Safety requirements and procedures that are now part of our daily construction protocols," explained Hobson.
Related:Work on South Africa's Perdekraal East Wind Farm set to begin
The 110 megawatt Perdekraal East wind farm is located approximately 30km north of Touwsrivier in the Cape Winelands District of the Western Cape. The project gained preferred bidder status in 2015 in the latest South Africa Government Renewable Energy Independent Power Producer Procurement Programme.
Construction activities on the project started in 2018, spearheaded by Mainstream Renewable Power, a leading independent developer of utility-scale wind and solar power plants in high-growth emerging markets.
Other wind farms under construction in South Africa include: Kangnas wind farm, Karusa Wind Farm,Soetwater wind farm, Oyster Bay wind farm among others.
Others like Noupoort and Khobab Wind Farms are operational. Noupoort Wind Farm for instance consists of 35 turbines with a total output of 80MW.
Also Read
Sidi Mansour wind farm boosts Tunisia renewable energy action plan 2030