---
A

s both the construction industry and the size of the population in Africa continues to grow, more demand is created for the raw building materials required for development.
An example of this is the increased mining of sand in countries like Kenya.
This demand for materials is putting a strain on the earth's natural resources. The mining, refinement and transportation of these resources requires a lot of energy and emits a lot of carbon.
Although going strong, the construction industry faces pressures from multiple angles, be it the challenges of automation that could result in job losses or the need to use more sustainable methods and materials to reduce the carbon footprint of developments. Governments and private industries are seeking to reduce these emissions.
This demands innovative approaches, such as working with more sustainable materials like wood.
Cement Emissions
A study by NPO Chatham House suggests that 4 billion tonnes of cement are produced every year, which accounts for around 8% of the world's carbon emissions. The numbers run to approximately a tonne of carbon for every tonne of cement.
This is far more than is produced by high-polluting industries (like aviation) and most countries in the world (China and America excluded).
Concrete and cement are the most widely-used building materials in developed areas like South Africa, as well as around the world. Yet, it is one of the materials that is causing the most pollution and environmental concerns.
Architects and developers are looking towards other options. One options that seems reasonable, and which has been discussed at construction conferences, is wood.
Wood has been used in building for many centuries and is widely used across South Africa today for "Wendy Houses", cabins, townhouses and clay rondavels with wooden frameworks. Yet, wood is rarely used in the context of modern architecture, such as for high-rise buildings.
Why not? It presents a seemingly obvious and intelligent solution.
Benefits of Wood
Wood is actually a wonder material for construction. At first glance, it seems that wood is not solid enough or fire-proof enough, yet these problems are easily overcome by using the right type of wood and by applying fireproofing for extra protection.
Wood that is treated properly may even be able to withstand fire better than steel reinforcements, which are prone to collapse in extreme heat.
A style of layering the wood called cross-laminated timber can be used to provide the strength and durability needed, allowing for impressive structures and the possibility of sustainable high-rise architecture.
Steel can be added to the design if additional support is necessary. Wood is even known to be cleaner and faster to work with. Expect around 1.5x the build speed, with fewer developers needed, around 1/5 of the truck deliveries, and less waste when compared to concrete.
Is High-Rise Wood Construction A Reality?
At this point it may seem like building modern, high-rise buildings with wood is not yet a physical reality, but there are already sustainable buildings like this that exist right now.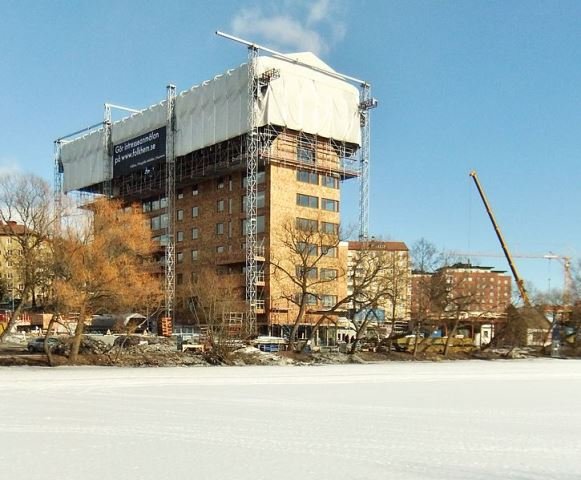 Swedish companies Folkhem and Wingardhs have been busy building with wood, including an 8-storey residential development. According to the developers, 600 tonnes of CO2 were released for production and transport of the materials, but the sustainable growing of the wood means that 1,600 tonnes of CO2 were removed from the atmosphere, making for a total of 1,000 tonnes removed.
Though still in the concept phase, the Lagos Wooden Tower in Nigeria is set to become Africa's first wooden skyscraper. The tower was designed by Cameroonian Hermann Kamte and has won multiple awards.
It also has features that are designed to maximise daylight and natural ventilation. Nigeria is surrounded by tropical rainforest, so it makes sense to sustainably source wood as a natural material.
It's clear to see that wood makes a perfect material for building. It is quicker and easier to work with, yet it can produce stunning, high-quality designs and finishes.
Working with strengthened and reinforced wood eliminates many of the associated problems, becoming strong enough and fire-proof enough for use on even high-rise buildings.
The future of construction has to be more sustainable, and working with alternative (yet traditional) materials like wood is one solution.
Read Also