Steel is considered one of the most valuable construction materials in the world. Generally, steel is less expensive yet more durable than most construction materials.
Hence, many industries use steel in their products–infrastructure, vehicles, appliances, tools, etc.
In most cases, construction projects are usually done by professional contractors. However, several homeowners choose to do their projects by themselves. One of the most popular ways of steel-based projects today is through steel kits.
Basically, these are sets of pre-fabricated steel parts of buildings and other necessities in building construction. Many residents and business owners assemble these kits and erect them. In many cases, you can use steel or metal structure kits for carports, commercial spaces, and auto shops, among others.
Suppose you're planning to build your first ever steel structure. Fortunately, this article will share essential tips and tricks that could help you assemble and build your first steel project. Read on!
What Do Steel Kits Have
Steel kits have all the essentials in metal building construction, including:
Instructions: Typically, steel kits have instruction manuals, construction videos, and the building's anchor bolt plan. In layman's terms, anchor bolt plans are plan views showing projection, location, and the width of the steel building's parts. In some cases, these plans also offer base plate dimensions.
Components: These include the framing materials, support materials, roof and wall cladding, additional waterproofing materials, and extra options like gutter systems and walk-in doors.
Fasteners: These refer to the self-drilling screws, bolts, and nuts for your steel building project.
How To Assemble A Steel Building Kit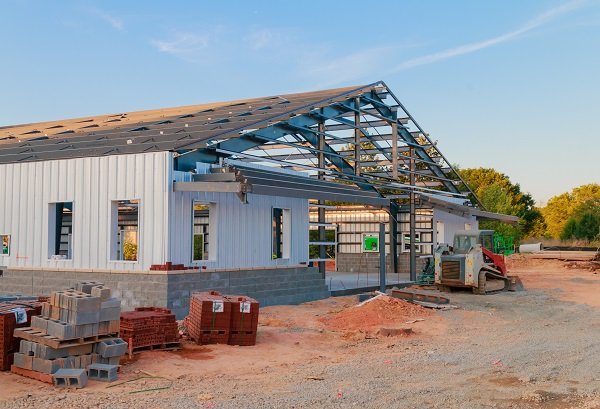 Similarly, steel kits are assembled like how toy kits work, albeit in a more serious way. If you want a well-built steel building project, you may consider seeking the services of an architect or engineer who could help you with the easement and drainage.
To start with, here are some steps that you may follow:
Preparing The Foundation
Start with locating and setting up the anchor bolts. These show the detailed guides the parts that you'd fit with each other. Most people seek professional help in interpreting the data and dimensions in the instruction manual and anchor bolts.
Assembling The Primary Frame
Bolt together and fasten the primary steel pieces of your project. These steel parts are already pre-cut and welded, so you could easily install them. Most components of the primary framing are the main I-beam columns and rafters.
Erecting The Trusses
This step would definitely need equipment like a Gradall excavator for digging and holding as the trusses are heavy. With the excavator, you could bolt the trusses and place the purlins in place. Ensure that the bolts and nuts are appropriately secured.
Bolting the purlins would be easy if they were placed on top of the trusses and anchor plates. You may temporarily screw a 2 x 4 on the anchor plate while bolting the bottom purlin.
If the wooden part had twisted and bowed because of high temperature, you may place the blocking T on the middle of the girts and purlins to straighten them. For the end columns, you could use a chain hoist and forklift to lift them.
Framing and Installing Boards And Sidings
You may also use the forklift and board to lift and hold the boards and sidings. Once these parts are installed, you may drill the panels so you can use a jig to bear the bit while drilling. Avoid having more than six sheets of panels for drilling, as you may miss the marks of the sheets at the bottom. After this step, you can now start installing the panels for boards and siding of the structure.
Roofing The Structure
Once the wall panels are installed, you could start with lifting the roof panels using a tractor or forklift to move them upward safely. Manual lifting may damage or dent the roof panels, so use the necessary equipment. Safely bolt and fasten each panel.
Pros Of Steel Building Kits
Highly economical compared to traditional metal structures
Quick to erect
Flexible to the possibility of further modifications and attachments, such as anti-leak weatherstripping portions
More durable compared to general modular construction
Low maintenance
Cons Of Steel Building Kits
Large steel structures may need heavy equipment to install
May need fire-resistant components as steel isn't entirely fireproof
Heavier than most modular construction materials
Wrapping Up
Steel building kits provide an avenue for many people to learn a lot of 'firsts' in building construction. Assembling a steel building kit could be hard at first. Yet, with constant practice and self-training, you may develop your skills and make better and more refined steel structures in the future.
You may want to start with the simplest or train with the basics, such as building a steel post. You could choose to erect a garage or a home extension that wouldn't require much effort and a complex set of skills. For now, you could use this article as a reference for the first phase of your steel building construction as a beginner.
Also Read
4 tips for buying construction material for your new house
5 innovative things to consider when building a house