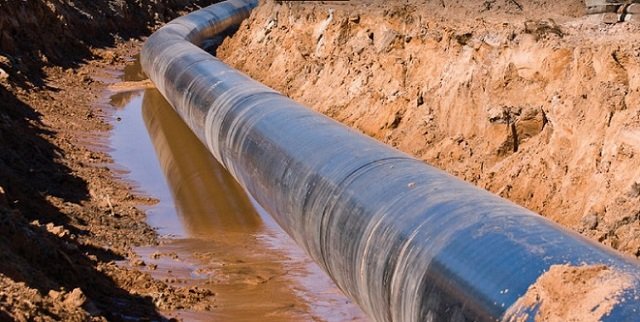 ---
Construction of a mega crude oil pipeline project in east Africa is set to commence in earnest following the signing of an agreement Sunday for work to begin.
The deal was signed by Uganda President Yoweri Museveni and his Tanzanian counterpart John Magufuli.
Dubbed the East African Crude Oil Pipeline, the project runs from the Hoima oil wells in Uganda to the Indian Ocean Port of Tanga in Tanzania.
Work is scheduled to start by the end of the year on the East African Crude Oil Pipeline to exploit oil discovered near Lake Albert discovered in 2006. Reserves in the area are conservatively estimated at some 1.7 billion barrels.
"This is a very crucial project for our people," said Tanzanian President John Magufuli, who signed the agreement paving the way for the pipeline in his home town of Chato alongside his Ugandan counterpart Yoweri Museveni.
"Our signing today is a crucial step towards implementing the project which will not only create jobs, but also promote cooperation within the region, and stimulate economic development in areas the pipeline crosses."
On his part Mr Museveni urged for the project construction to start as soon as possible.
The pipeline works will be undertaken by Total E&P, CNOOC and Tullow Oil, together with the two governments of Uganda and Tanzania.
Uganda in April 2016 pulled out of the initial plan to jointly build the pipeline with Kenya from Hoima oilfields to proposed Lamu port via oil-rich Lokichar Basin at an estimated cost of $5 billion (about Sh516.55 billion).
According to feasibility studies, the Tanga route was deemed the cheapest for Uganda to transport its oil from the production point in Hoima to the international market.
But the East African Crude Oil Pipeline comes at a cost. A recent report presented by International Federation for Human Rights (FIDH) and Oxfam showed that the project puts over 1200 families at risk of losing their land as well as endanger sensitive and vital ecosystems.
"Despite promises about jobs and a better future, communities are worried about lost land, a damaged environment, and the 'empty promises' of oil money," said Caroline Brodeur, private sector advisor for Oxfam.
"We urge companies and governments to review these newly-released findings, which reflect the fears, hopes, and recommendations of communities around the Lake Albert oil projects and 'down the line,' and commit to a different path forward." she urged.
The East African crude oil pipeline is expected on completion carry 216 000 barrels of crude oil for export per day.
Also Read
South Africa's construction sector suffers worst quarterly slide