---
Botswana Innovation Centre, is an iconic project under construction in the capital Gaborone that utilises the most cutting-edge green technology.
The  building will house a wide range of initiatives in technology incubation, education, and scientific research. Set to open in 2021, New York based SHoP Architects, the firm behind the design of the project says that when complete, facilities will include a full range of creative workspaces and laboratories in an ecologically responsive and environmentally sensitive complex.
And it was not an easy job to undertake the project with demanding logistical challenges.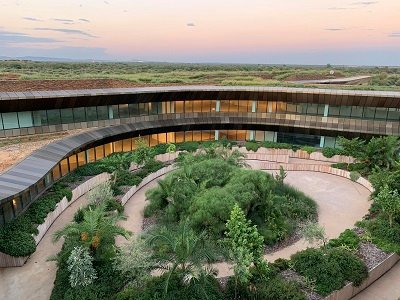 In fact, SHoP deployed select teams to live in Gaborone and work on-site with  local partners.
"Together we deployed a full range of digital modeling and visualization technologies, many developed in-house. Clash detection and other construction management functions are being achieved in the field via an iPhone-accessible 3D database hosted in New York," says SHoP Architects.
"The design and delivery of the building envelope is a landmark project in the development of fully automated, paperless, direct-to-fabrication construction techniques. In element count and complexity, it surpasses what we were able to achieve at the Barclays Center in New York."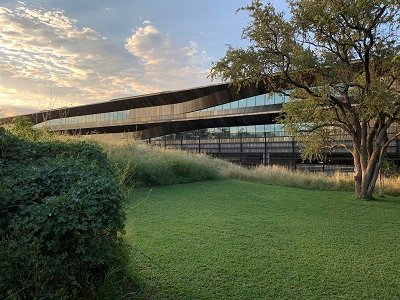 SHoP's design for the botswana innovation hub uses a variety of sustainable techniques, including a concept they deem the 'energy blanket' roofscape, which combines passive and active sustainable energy techniques. The roof design incorporates large overhangs to passively shade the building's interior volumes, mechanisms to collect and reuse water, and both passive and active photovoltaic systems to harness solar energy.
the combination of these technologies will offset at least half of the building's operational energy costs. Where the roof slope prevents optimal solar collection, a low-maintenance roof garden collects and filters rainwater. This harvested water supports both the roof garden and the bioswales downstream in the courtyards.
The deep articulation of the facades maximizes self-shading, a response to the Hub's demanding desert setting. A series of planted courtyards create opportunities for outdoor gathering throughout the year.
Amenities such as lounges, a large auditorium, and a bar are arranged to maximize spontaneous encounters and encourage collaboration between enterprises sharing the Hub.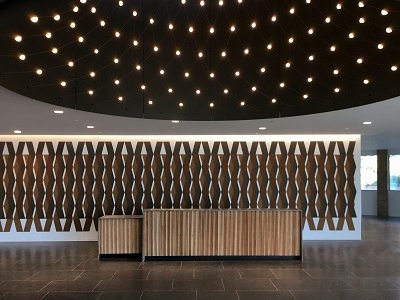 The interiors incorporate a number of contributions from local artisans, including this mural made with a traditional wet-earth technique.
Project Info:
---
Name: botswana innovation hub
Design: SHoP architects
Location: gaborone, botswana
Date of completion: 2021
Façade manufacturer: world of windows, C&C safety glass, saint-gobain
Façade engineer: sutherland engineer
Structural engineer: WSP (south africa), pula consultants
Façade installer: world of windows zhengtai, caitec
System: custom rainscreen system and window wall system panels
Products: saint gobain triple-silver-coated glass, custom anodized aluminum panels


---
Also Read
5 upcoming gas pipeline projects in Africa