---
The heat resistant materials or products are used in industrial settings to resolve different problems related to high temperature.
Heat resistant products are required to protect expensive machinery, equipment, cables, and wires that are at high risk due to certain heat generated operations. Read the article to learn about a few standard heat resistant materials that are utilized for industrial applications:
Fire Blankets
Fire blankets are well-recognized heat resistant materials that are used to conveniently snuff fledgling fires and ramp down the chances of hazardous events. Fire blankets are exclusively made of fire-resistant sheets that attempt to smother the fire by eradicating access to oxygen.
You can buy fire blankets online and in stores. These blankets are available in a number of sizes to serve a wide variety of home and industrial needs. Normally, small-sized fire blankets are made to put in kitchens, whereas large-sized sheets are used for laboratory and industrial applications.
Firesleeves 
Firesleeves are another valuable heat resistant product made to serve the needs of industrial and aerospace applications. They come with silicone-coated fiberglass sleeves that are best suited to function as insulated sheets. Firesleeves are capable enough to resist temperature up to 500°C – 540°C.
Moreover, firesleeves are used to withstand elements like water, flame, oil, and different types of adhesives. You can easily find firesleeves in different kinds of inside coating and sizes. The industrial version of firesleeves is used to protect wires, cables, industrial & hydraulic hoses. Typically, the firesleeves are made of braided fiberglass to serve specific needs of the aerospace sector.
Heat Resistant Tapes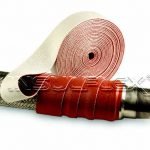 Heat resistant tapes are used to resist high temperature and pressure. These tapes come in a variety of sizes to function well under different wash and dry cycles. It is noticed that heat resistant tapes are also suitable to resist elements like water, salt, perspiration, and chlorine.
They are significantly used for high-temperature sublimation processes, mug printing, high bulk glass fiber procedures, and other specialty projects.
The tapes are usually designed with variable length, width, color, and thickness to attain maximum flexibility. Heat resistant tapes are made to resist temperature up to 1650° C. They can potentially withstand splashes and flames of molten metal.
Heat Resistant Sealants
Heat resistant sealants are specifically made to perfectly seal the gaps between substantial sections of an industrial machine.
They are also known to shield the ends of firesleeves. Generally, heat resistant sealants are available in two forms: cement sealants (they are enormously used to cover the rough surfaces) and liquid foam sealants (they are used to protect machined connections and threading by properly sealing them).
It is noticed that heat resistant sealants are capable enough to resist temperatures up to 157°C – 816°C. These seals are well-suited to control unwanted chemicals, for instance, acids, brine, ammonia, and hydrocarbons. In current times, the sealants are employed by major industries like power generation, steel chemical, automotive, oil, and heavy equipment.
High-Temperature Ropes
High-temperature ropes are an ideal solution to effectively resist temperatures, molten splashes, flames, and unwanted chemicals. Primarily, high-temperature ropes are employed for industrial gaskets, sealing applications, and packing.
Metal casting seals, oven door seals, joint packing, and high-temperature gaskets are a few common applications. These heat resistant ropes are either made of knitted e-glass or braided and later coated with iron oxide red silicone rubber.
These ropes are well-known to resist temperatures up to 500°F. Besides, these ropes are available in two different forms: braided and knitted. The braided temperature ropes are said to be more durable and less flexible as compared to knitted ropes.
Also Read
Top 10 window manufacturers in the USA