---
L

aminate flooring technology allows for high quality, very durable flooring materials but at a fraction of the cost of hardwood.
This is because in a majority of the cases the main components in laminates are sourced from renewable/green plantations or from recycled materials. This is a trend which not only allows for cost effective materials but also remains an eco-friendly solution.
Of course other aspects what impact the actual ecological & health implications are VOC's (Volatile organic components), these encompass the bonding agents used to create the materials as well as any chemicals that are used in any process of the making or fixing of the planks.
When shopping for flooring we urge people to be on the lookout for these VOC's and not use any materials that ranks above an A+.
Now laminates have evolved tremendously since their discovery about half a century ago and are now, in some cases, more durable than the real hardwood counterparts. This is in part due to the surface coating technologies used (ScratchGuard in the case of Quick-Step) that make it almost impossible to scratch the floors (even with a knife or scissors) in fact we often give our clients a sharp object to try and scratch the boards, when they visit our offices.
The surface coating also means that laminate floors are completely sealed off on top. No water or oils can penetrate through the top layer.
Generally this is a very good thing, your floors are much more resistant to water that good old hardwood, on the other hand when purchasing a laminate floor you have to be conscious that you cannot varnish, stain or polish your floors. The oils will simply coat the surface but never make it in.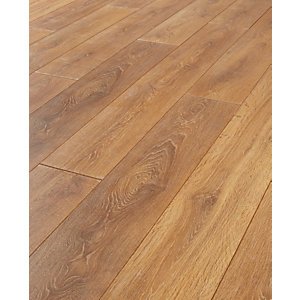 This also means that maintenance is a breeze! Laminate floors are mopped, in a similar fashion to tiles, once or twice a day with no issue.
Some laminate floors like the Quick-Step Impressive, Classic and Eligna ranges are designed to be waterproof and can be installed in bathrooms, however, the installation is key in such applications are care has to be taken to seal any gaps and edges with a waterproofing compound.
Failure to do this will allow water to seep around the outer edges (where you have the skirting) and overtime damage the floor.
When purchasing your laminate floors, you have to be aware of:
The country of origin (Belgium, Germany, USA, Turkey, China, India, etc…) generally speaking EU standards for these materials are higher than counterparts.
 The AC rating (Abrasion criteria) refers to the wear-layer on the surface of the material & subsequently how much resistance the floor has to foot-traffic. Don't go any lower than AC4!
The Composition of the core material. High end laminate floors will have a very dense HDF core. Never, ever buy MDF laminates as it is not likely to last a long time.
The warranties of the laminate. In the case of Quick-Step we start as from 20 year up to a lifetime warranty that covers scratches, fading, warping, chipping, locking-mechanism, UV, fire, etc… ANY GOOD LAMINATE MUST HAVE A WARRANTY OVER 10 YEARS!
Laminates are favoured in colder areas due to the warmth that these floors hold. Unlike tiles that easily get cold and uncomfortable in colder regions laminates will always retain a neutral, not too warm, not too cold touch.
Another great advantage to this installation is that it can be done very fast without having to wait for drying or curing. Unlike tiles or even hardwood, where the client is expected to clear the installation area for a good few days, laminates can be installed with minimal disturbance to the client's routine.
---
Some laminate floors like the Quick-Step Impressive, Classic and Eligna ranges are designed to be waterproof and can be installed in bathrooms
---
Unlike tiles, laminates are also easier and cheaper to install as there is no need for glue, cement of grout. This means no mess either during installation.
Now, there has been a long debate regarding the thickness of laminates & benefits over price. In our experience there is almost no difference when looking at thickness alone and more attention should be give to the points above.
When looking at type of HDF, or MDF, generally the higher the quality the more compressed the material will be. This means that a high density HDF of 7mm will be far superior to a low density HDF that is 12mm. One should be very keen on this in order to avoid being duped by sellers.
In order to reduce noise when walking on the floors a election of underlays are available depending on your requirements. Want a "studio grade" floor? Go for the silent walk underlay… building an apartment? Go for the unisound.. etc…
Now unlike hardwood floors which are usually a lot more expensive, you always know, for sure, what you're going to get when purchasing Laminates. As they are machined products, the design, shade, length and thickness will always be standard as per your choice.
This means that there is no room for unexpected outcomes. For example when purchasing a timber floor there is always the risk of warping, high water content in the wood etc… hence a lot more unpredictable.
Why laminate flooring is becoming trendy
Over the years laminates have come to prove their durability & reliability. Homeowners can now have access to the latest trends in flooring designs, shades, finishes etc at a very affordable price.
As the larger flooring manufacturers have always involved themselves in interior trends, the products they manufacture closely follow worldwide taste patterns. This means that anyone can get their hands on that brand new look they saw in a magazine with very little effort. Something that was almost impossible when dealing with hardwood.
Another plus is the knowledge that the products were manufactured by a reputable company that guarantees the materials. By bypassing the insecurities about the lifespan of an experimental product homeowners can rest assured that their floors will last.
Unlike LVT vinyl floors, good quality laminates can nowadays not be distinguished from hardwood. "
---
Quick-Step is a major brand by Mohawk, the largest flooring & wood panel company in the world. As such Quick-Step has always been updated & improved upon since it's introduction on the market.
These changes, in terms of technologies, colors & trends have made Quick-Step the go-to flooring company in a majority of countries across the globe.
Read Also: