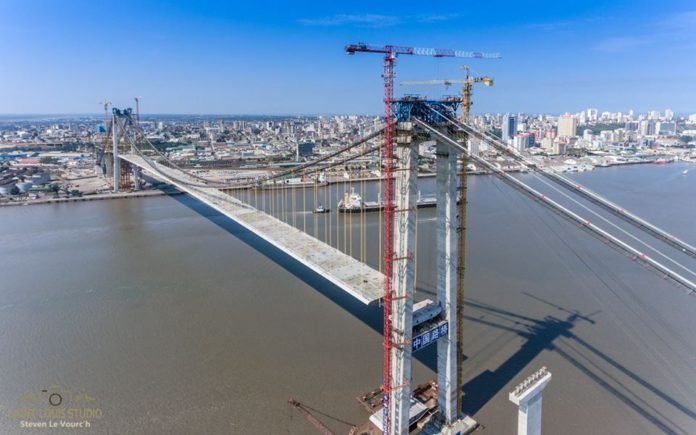 ---
When Mozambique completes the Maputo-Catembe bridge in December this year, transport times to South Africa, from where Mozambique imports many of its basics will be cut greatly.
The US$700m is being constructed by state-owned China Road and Bridge Corporation.
At the moment, the only way across Maputo Bay, a 90km inlet of the Indian Ocean, is by ferry.
The last section of deck of the bridge between Maputo and Catembe was laid in late October.
The Maputo-Catembe bridge will be the largest in the country, the largest suspension bridge in Africa, and among the 60 largest suspended spans in the world.
The 3km bridge aims to link the capital Maputo with the small and picturesque town of Catembe on the southern edge of Maputo Bay.
In October, China Road and Bridge Corporation placed the first module of the 57 that will make up the main deck of the bridge.
The deck, which will cover a 600-metre suspension span, is estimated to weigh more than 7,000 tonnes. Each module is 12 metres wide, 26 metres long and 3 metres thick.
Construction of the bridge is part of the Maputo-Ponta de Ouro road construction project, over a distance of 209 kilometres.
The project is divided into three parts – the first section from Maputo to Katembe, over 35 kilometres; the second section comprising Katembe-Ponta de Ouro (109 kilometres) and includes the repair/construction of roads between Katembe/Bela Vista and Bela Vista/South Africa and the third section of 63 kilometres covering the repair of the Bela Vista/Boane road.
This project is budgeted at US$725 million, and its financing was secured through a loan from Mozambique from the Export-Import Bank (ExIm) of China. (macauhub)